Toshinori Kondo Biography
Toshinori Kondo was born on December 15th in 1948 in Imabari City on the island of Shikoku in Japan. When he was 12 years old, he began studying music and started playing the trumpet in the school band. In 1967, he went to the Wako University in Kyoto where he studied mechanical engineering. During his university years, he took an interest in jazz music.
In 1971, the late pianist Yoshito Osawa introduced Toshinori Kondo to the flute player Masahiko Kono. Soon thereafter Kono gave up the flute for the trumpet in order to study trumpet with Kondo.
In 1972, Kondo moved to Tokyo to become a professional musician. Kondo started practicing Shintaido when he was 24 years old. In 1974 he met the drummer Shoji Hano and introduced him to the martial art Shintaido.
There was a reason why Kondo was involved in Shintaido. Because japanese are smaller than western people, they have less physical strength to play music than western people have. But they need power to come up to the level of western musicians. Western musicians can keep playing for one or two hours with great power and speed, but japanese musicians can continue for only about ten minutes. When Kondo was studying breathing techniques and things like that, in order to gain as much power as western musicians have, he eventually found Shintaido. Shintaido is a very demanding art. You need very hard training--jump, jump, jump. But building up your body is just the beginning. Next, you have to learn to heighten your spirit and to evaluate your way of life. You can't be content to play only with Japanese--you must be able to play with Western musicians equally well.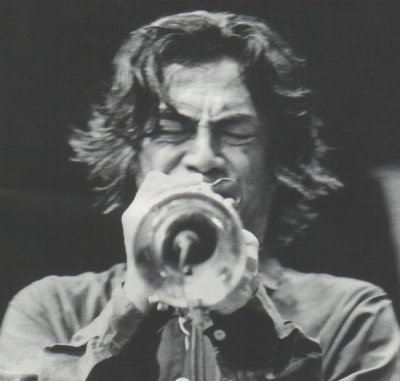 Kondo became Hano's musical master, helping him develop his own style and professional gigs. Kondo played regularly in New York, and many American and European musicians came to Japan and played with him.
In 1976, the group EEU (Evolution Ensemble Unit), which was formed by Kondo, drummer Toshiyuki Tsuchitori, sax player Mototeru Takagi and bassist Motoharu Yoshizawa, performed several gigs.
In 1976 Hano, Kondo and Osawa formed a trio, and in 1977 they performed around western Japan.
In 1978 Kondo moved to New York where he played with musicians from around the world.
In 1980 Kondo performed at the "Metalanguage Festival of Improvised Music". The festival included performances by free-jazz musicians like Evan Parker, Derek Bailey, Henry Kaiser and Greg Goodman.
In 1981 he formed the "Easy Music" band with Hano, guitarist Haruhiko Gotsu, and electric bass player Tetsu Yamauchi. They disbanded in 1982, after wich Kondo started the "Tibetan, Blue, Air, Liquid" band.
In the summer of 1983, the FMP Orchestra visited New York City as part of its world tour. Toshinori Kondo was with it, and Paul Rutherford, Gunter Christmann, Albert Manglesdorf, and George Lewis formed the orchestra's amazing trombone section.
In New York, Kondo started the record label "Bellows" that featured artists like Eugene Chadbourne.
At this time, Kondo was already bored with New York. He wanted to return to Japan because he missed the vitality of his homeland.
Once back home, Kondo's restlessness came to an end with the founding of his own band, International Music Activities, (IMA). He was able to create the sounds which represented his view of what innovative music should be, together with young musicians who were willing to completely distance themselves from traditional tonal patterns. Warped guitars, hectic electronic percussion, odd futuristic computer sounds, and everyday noises were joined together to create a threatening but danceable picture of modern life in the big city. In this scenario, Kondo's trumpet takes on the role of human feelings; sometimes gentle and then challenging again or shrilly aggressive. The melodies that can be heard originate in Kondo's enthusiasm for traditional Japanese music, but he wants to go back much farther than the roots. "When a child is born it screams and this scream sounds the same all over the world. That's what I mean by ethnic origins, and I want to find my way back there with my music."

In 1984, Kondo produced and organized the event "Tokyo Meeting". This festival included performances by artists like Toshinori Kondo, Peter Brötzmann, Ryuichi Sakamoto, Bill Laswell, Rodney Drummer, Cecil Monroe.

In 1993 he disbanded IMA the band and moved to Amsterdam to start the solo project "Blow the Earth" a concept which involved Kondo simply playing his electric trumpet in seclusion with nature. During his travels with "Blow The Earth," Kondo played solo trumpet in the Negev Desert, the Andes and the Himalayas. The solo album Israel is the result of these performances.
Recently Kondo produced and played at the Mt. Fuji Aid Festival 2000 in Japan produced and played at the World Festival of Sacred Music 2001 in Hiroshima, Japan.
Currently Kondo lives in Amsterdam and is constantly traveling the world the perform in Europe, Asia and the United States.
Besided his work as a producer and musician, Kondo is also active as a writer and an actor. He performed in different Japanese movies and during the 80's, he also "acted" in several television commercials.
Toshinori Kondo is the chairperson of the continental committee of the Foundation for Universal Responsibility of the Dalai Lama.